We are happy to announce a small update to the ruleset ahead of the 2019 NAHBPC. After gathering feedback from players and referees who participated in WHPBC 2017 and NAHBPC 2017/2018, the most common and serious topic of discussion was the lack of consistency with Referees, as well as mitigating the benefit of a "clean slate" after a game is over. We have seen teams commit multiple penalties near the end of the game to secure a win and then move onto the next knock-out stage with absolutely no repercussions.
It became a priority in 2019 to address the issue of penalty escalation and introduce a mechanism for punishing repeat offenders over the course of a tournament. We did not want to introduce this prior to qualifiers, as we felt the interpretation/implementation could be inconsistent and the overall tournament experience could be affected. We are confident that implementing this rule prior to NAHBPC 2019 will allow us to communicate it to all of the participants and Referees more effectively, allow the change to organically spread into regional tournaments, and most importantly: give us time to improve the rule for 2020 and beyond.
This rule update is the first of two planned updates — the next of which will come in 2020 — and has two basic parts:
We establish a systematic approach to penalty escalation so that Referees have clear guidance. No more guessing or half measures. Additionally, there is the possibility of "Fouling Out" which will result in a 1 game ban to be served by the player after the game in which they accumulate too many fouls.
To read this update, the updated ruleset is available at: https://nahbpa.gitbook.io/nah-ruleset-2019/ and the important new material is in Section 6: Penalty Format.
The referee can assess a Ball Turnover, Minor, Major at any time for any infraction, however these are the minimum requirements for assessing penalties for repeat offenders. After an individual player is assessed 2 Ball Turnovers for infractions, their next foul will result in a Minor (30 second, goal cancellation). After two Minors, the next one will result in a Major (90 second, no goal cancellation). On their 2nd Major (6 total penalties), the team will play the 90 seconds and the individual will have "Fouled Out" and be required to sit out of the game for 5 minutes, 10 minutes or the rest of the game. We are using the existing Personal Misconduct language to allow the referee to determine an appropriate amount of time that the player must leave the game. In addition to this time in which the player cannot enter, they will serve a 1 game ban in the game immediately following the game in which they received a Misconduct.
This last detail is hugely important to balance out the benefit of late-game penalties in knock out stages of tournaments. And after NAHBPC this year we will refine this and add another layer to address total penalties accumulated by an entire team.
Here is an example of the scoresheet we'll be using at NAHBPC to track this, with X's in the boxes where players have accumulated penalties. This demonstrates that it is possible to move from left to right in a linear way, or the Referee can escalate the penalties more quickly if they choose.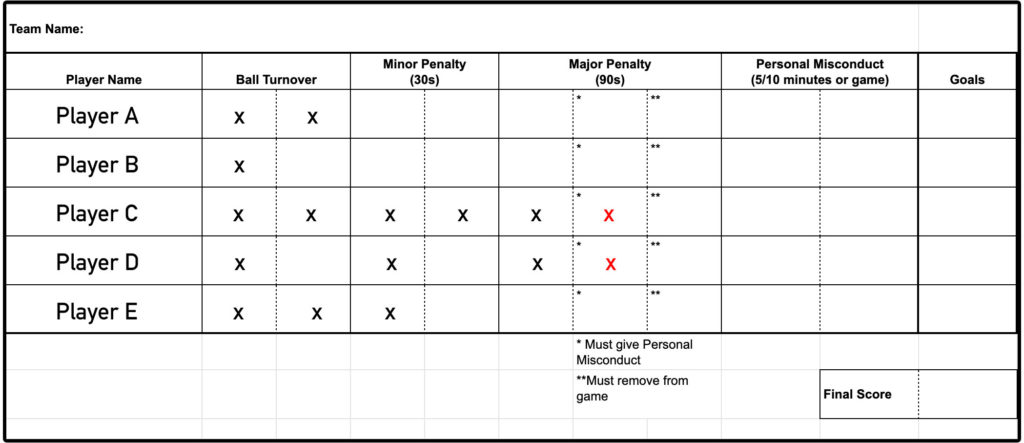 You may have questions:
How did we arrive at these numbers?
We watched video, talked with referees, and ran a few potential scenarios through this system. This is our equivalent of "three strikes", and the number may change, but right now 6 feels good.
What if we only have 4 players on our team and 2 of them "foul out"? Do we have to play a game with 2 players?
We consider 3 players to be the minimum to play, so the player who fouled out first will sit out the first game and then the other player will serve their ban in the following game. This situation will be rare and the tournament organizer will discuss this with the captains of all teams involved as well as the Referees from all games.
What about the other escalation guidelines in various rules?
You're right, and we read through it and it all still applies. Most instances refer to automatic escalation and that will always be valid unless the player has already found themselves in foul trouble in which case this new rule will take precedence. If you have concerns, just ask an Organizer what to do when it happens.
Have you been working on anything else?
Yep! We fixed 100 typos, adjusted some language about dabbing and round robin formats.
If you have questions or concerns prior to the event, please email joe@nahardcourt.com. If you have questions during NAHBPC 2019, please speak with Mark.