(Desplácese hacia abajo para la versión en español)
As regions announce their Qualifiers, info will be posted on the Qualifying Series page.
Reminder that for all Qualifying Tournaments you must adhere to the following regulations unless your region gets approval for an alternative variation from the NAH Tournament Director (mark@nahardcourt.com):
Follow the current NAH ruleset.
Host using the Squad Format.
Qualified teams shall take greater than 50% (3/5, 4/6) of that team to NAHBPC or else their spot shall be forfeited to the following team from their regional qualifier.
Regional Reps are responsible for delivering names of successful teams to the NAH Tournament Director (date TBD pending NAHBPC).
Regional Reps are required to make very clear to their region how teams will qualify for the NAHBPC.
Qualifiers must be open to players outside of the region, but regions will have restrictions during the first week for "in-region-only registration" followed by open registration. See policy definition of "In-Region" below.
Regions are responsible for collecting their own registration fees. More information about collecting fees with legal and financial protections from NAHBPA.
In-Region Status
A team can have up to 6 players, but can only dress 5 of those players in the squad for any given match. Any given team may declare "In-Region" Once across all 10 Regional Qualifiers(RQ). You are only allowed to register during the "in-region" registration period for the region in which you belong or the majority of your team belongs to! If you want to register in additional qualifiers, you have to do so after the "in-region" window has closed.
So, for example, if you have 3 members from "Region A" and 2 members from "Region B", you are considered "in-region" in A. If you have 2 from A, 2 from B and 1 from C, you get to declare A or B. Here is a chart to help clarify(if you are unsure please contact the Tournament Director: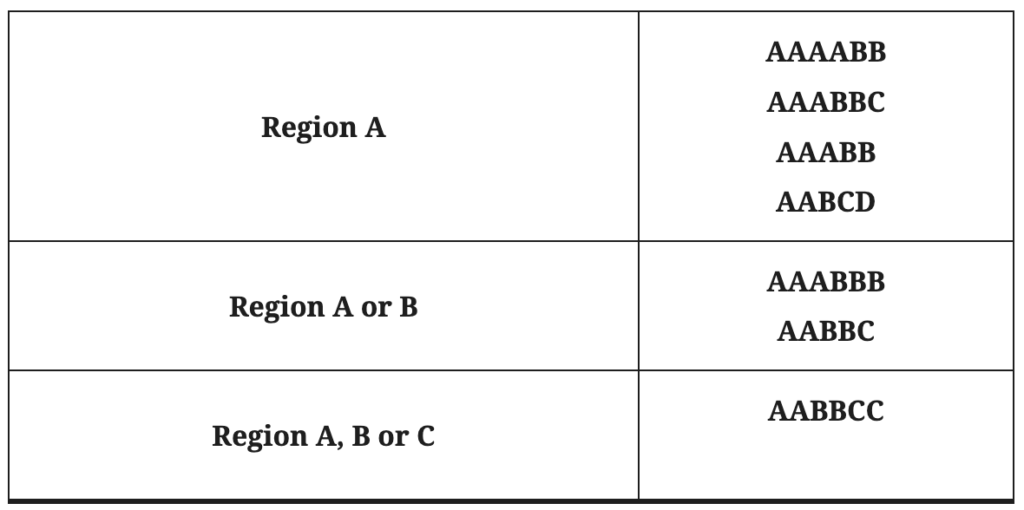 **Due to such a high demand for tournament play in 2022 no player will be eligible to play in more than Two(2) Regional Qualifiers across the 2022 RQ series.
Multiple Qualifiers
If you or your team decides to travel to multiple qualifiers you will not be able to register "in-region" twice. You will have to wait for "in-region" registration to pass before attempting to gain a spot in the event. If your team successfully qualifies in both, you must represent the region for which you had "in-region" status. If you only qualify out-of-region, you will represent that region and the points system will allocate points to that region.
Allocation spots to NAHBPC 2023
Regional allocations for the 2022/23 season are official. Below you will find your regions allocations based on a two-court NAHBPC. If the number of courts changes(from 2 to 3), the number of spots awarded will be adjusted accordingly.
NAHBPC 2022/23 Regional allocations:
Cascadia (CS): 3
South West (SW): 3
Eastside (ES): 2
Great Plains (GP): 2
Mexico (MX): 2
Great Lakes (GL): 1 2
Heartland (HL): 2 1
Northside (NS): 1
South East (SE): 1
South Central (SC): 1
For questions regarding the schedule, format or allocation, please contact Mark Aseltine directly at mark@nahardcourt.com.
---
Series Clasificatorias NAH 
En cuanto cada región anuncie sus torneos clasificatorios, la información detallada será publicada en la página de las Series Clasificatorias. 
Este es un recordatorio de que todos los torneos clasificatorios deberán adherirse a las siguientes reglas, con excepción de que tu región reciba la aprobación para modificar algo del Director de Torneos NAH (mark@nahardcourt.com):
Seguir las reglas del Reglamento NAH. 
El torneo debe ser en formato Squad.
Los equipos que clasifiquen deberán mantener más del 50% (3/5, 4/6) del equipo original al Torneo Norteamericano (NAHBPC), de caso contrario perderán su lugar y será otorgado al siguiente equipo clasificado.
Los representantes de cada región son responsables de comunicar al Director de Torneos NAH, los nombres de los equipos que han clasificado al Torneo Norteamericano.
Los representantes de cada región deberán comunicar claramente a su región la forma en que los equipos clasifican al Torneo Norteamericano (NAHBPC).
Los torneos Clasificatorios deberán estar abiertos a jugadores que no pertenecen a la región, pero cada región tendrá restricciones. Durante la primera semana de inscripción, solo equipos que pertenecen a la región podrán inscribirse, al finalizar esta semana, la inscripción será abierta a cualquier equipo. 
Cada región es responsable por recolectar cuotas de inscripción. Más información acerca de la recolección de cuotas de inscripción con protección legal y financiera de la NAH aquí. 
Pertenecer a una región
Cada equipo puede tener hasta 6 jugadores, pero sólo 5 pueden jugar cada partido. Cualquier equipo puede declarar que pertenece a una región una vez solamente, y en caso de jugar más de un torneo clasificatorio, los demás deberán hacerlo como equipo fuera de la región. Un equipo pertenece a la región a la cuál la mayoría de sus jugadores pertenecen.
Por ejemplo, si tienes 3 miembros de la "Región A" y 2 miembros de la "Región B", tu equipo pertenece a la "Región A".
Si tu equipo tiene 2 miembros de la región A, 2 de la región B y uno de la región C, puedes decidir pertenecer a la región A o B, pero no a ambas. Abajo una tabla para clarificar (si aún tienes dudas, por favor contacta al Director de Torneos NAH):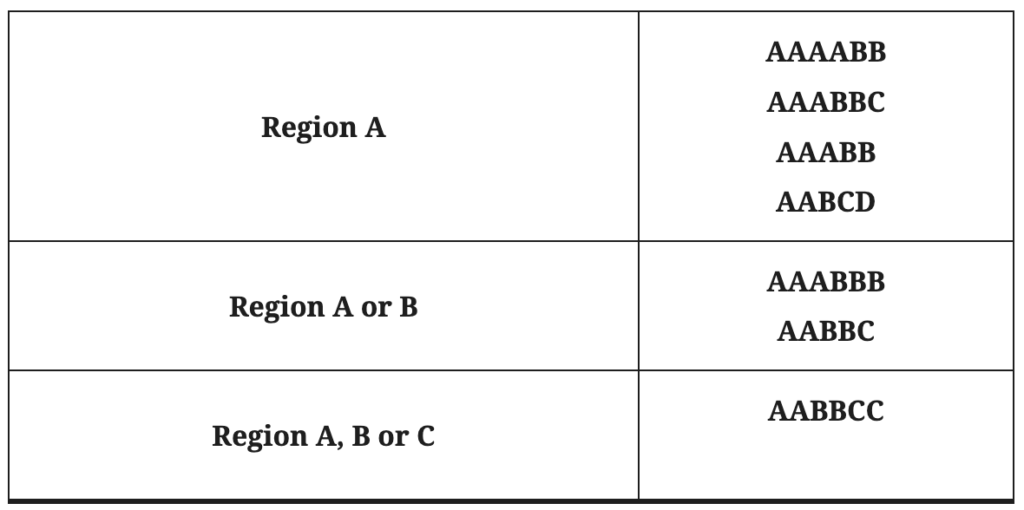 **Debido a la alta demanda de jugar en torneos durante 2022, ningún jugador podrá jugar más de Dos (2) Torneos Regionales Clasificatorios de las Series Clasificatorias NAH.

Múltiples Torneos Clasificatorios
Si tu o tu equipo deciden viajar y participar en múltiples torneos clasificatorios, podrán inscribir su equipo como perteneciente a una región dos veces. Deberán esperar a que la inscripción para equipos pertenecientes a cada región termine, antes de poder intentar obtener un espacio para jugar en dicho torneo clasificatorio.
Si tu equipo logró clasificar mediante ambos torneos clasificatorios, tu equipo deberá representar la región en la que clasificaron registrados como equipo perteneciente a esa región. Si tu equipo únicamente clasifica como equipo fuera de región, tu equipo representará esa región y el sistema de puntos dará puntos a esa región. 
Distribución de lugares para el Torneo Norteamericano (NAHBPC) 2023
La distribución regional de la temporada 2022/2023 es oficial. Abajo encontrarás los lugares que cada región tendrá, basado en un Torneo Norteamericano con dos canchas. Si el número de canchas cambia (de 2 a 3), el número de lugares que cada región tiene será ajustado (incrementará).
Distribución de Lugares para el Torneo Norteamericano (NAHBPC) 2022/2023:
Cascadia (CS): 3
Sureste (SW): 3
Este (ES): 2
Grandes Planos (GP): 2
México (MX): 2
Grandes Lagos (GL): 1 2
Heartland (HL): 2 1
Norte (NS): 1
Sur Este (SE): 1
Sur Centro (SC): 1
Si tienes preguntas relacionadas con el programa, formato o distribución de lugares, por favor contacta a Mark Aseltine directamente vía correo electrónico mark@nahardcourt.com.